Justin Kim, O.D.
Dr. Justin Kim, OD, grew up in the greater Los Angeles area. He attended the University of California at Berkeley with a full scholarship and graduated with his Bachelor's degree in neuroscience. While at the University of California, he became interested in optometry as a profession. He attended Southern California College of Optometry as a Health Professional Scholarship recipient provided by the United States Air Force. He served in the Air Force as a clinician at Wilford Hall Medical Center, Chief of the Optometry department at Brooks Air Force Base, and Chief of the Laser vision correction registry at the School of Aerospace Medicine of the Air Force, helping our pilots and air crews for their wartime readiness. Before his commitment ended in 2005, he received two Air Force service medals.
After his commitment ended, he stayed in San Antonio to begin his private practice life. Dr. Kim joined Trinity Vision Center in 2007 and has enjoyed growing the practice. Dr. Kim is trained in the treatment and detection of ocular disease and is licensed as an Optometric glaucoma specialist in Texas. He has updated the office with new equipment to provide comprehensive eye care for all ages. He particularly takes a special interest in diagnosing and treating people with chronic dry eye disease.
Dr. Kim also enjoys finding the perfect solution to his patient's needs, whether it be specialty contact lenses, glasses, medical eye care, or a LASIK surgery or lens replacement surgery consultation. In his free time, Dr. Kim loves to spend time with his two boys and his amazing wife, whom he has known since childhood.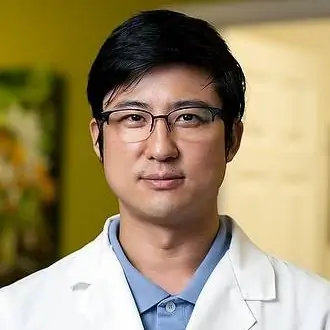 Accepting New Patients
Speaks English
Speaks Korean
---
Book now with
Justin Kim, O.D.